Quality, paramount with Ecko, is controlled by a prescribed agenda, with courses of action and clear assignments of responsibility.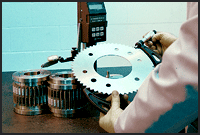 Ecko uses Electrical Discharge Machining (EDM), one of the most accurate manufacturing processes available. EDM technology enables the manufacture of complex dies with precision unmatched by other methods. This advanced technology along with careful research, strong design and years of experience provide the freedom and flexibility needed to create complex shapes without compromising quality and precision.

To ensure timely delivery, we pre-qualify vendors of the raw materials, which we carefully inspect upon receipt at our facility prior to fabrication. After fabrication, the finished product is thoroughly inspected using state-of-the-art laser gauging systems.