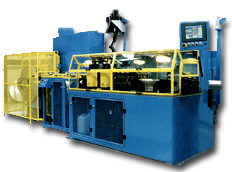 High Volume
Up to 1,000 ft/min
Recognized around the world for ultimate precision machining.
The E-2000 Fin Mill increases production efficiency with its easy set-up, operation, and maintenance. It has the remarkable ability for quick change of its roll tooling and gathering system modules.
When ordered with our adjustable stock guide package, the E-2000 Fin Mill has the versatility to fabricate different types of fin strips. Design changes, such as fin style, separator width, amplitude, and fin density, are easily completed. Additionally, the transmission unit allows for changing between a very short length at a high number of units per minute and longer lengths at fewer units per minute.
These features make the E-2000 Fin Mill the most versatile, yet simple machine of its type on the market today.

Dimensions
Width: 198" (5.029m)
Height: 75" (1.905m)
Depth: 55" (1.397m)
Standard Features
Main Drive 15 HP, 480V, 3 phase 60Hz Motor
Single Uncoiler with Adjustable Stock Base

Fin Material: Copper or Aluminum
Inside Diameter: 6" (152.4mm) or 12" (304.8mm)
Outside Diameter: up to 60" (1.524m)
Material Width: up to 10" (254mm)
Material Input Speed: up to 1,000' (304.8m) per minute

Adjustable Stock Tension Station
Accepts Quick-Change Roll Head Units
Accepts Quick-Change Gathering Systems
Splicing Stand Platform
Heavy Duty Brake System
Heavy Duty Transmission Unit (High/Low)
Step Down Transformer
Micro-Coat Lubrication System
CFM Filter Mist System
Custom Servo Control Cut-Off System
Shut-Down Sensors

Low Lubrication
Out of Stock
Stock Wrap
Open Guards

Touch Screen Control Panel with Swivel Support Arm
Fully Enclosed Guarding Package
Cabinet Cooled On-Board Electronis
Optional Features
Dual Uncoiler
Hemming Station
Traying System
Servo Gathering System
Custom Servo Control Stop & Go System
Servo Back-Tension Unit